Students of all levels are welcome from beginners to advanced competitors and professionals. We take pride in giving personal attention to the needs of each individual, with instruction tailored to fit your present level, short and long-term goals, and desired level of commitment to the learning process. Our emphasis is on dressage and combined training based in a sound foundation of classical training and balance seat riding. We also specialized in flatwork for hunter equitation riders.
Lesson Plan
"Your Own Schedule" Lesson Packages:
"Your Own Schedule" Package lessons may be scheduled one at a time and appointments may be changed as needed, with at least 2 hours notice. Missed appointments will be charged against the package. Packages may be shared by members of the same family. No time limit on package use.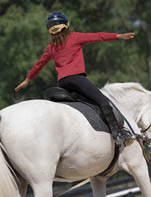 8 Beginner, Lunge, or Group Lessons $ 290.00
8 Private Hour Lessons 625.00
8 Private half Hour Lessons 315.00
Packages must be paid for in advance of the first lesson of the package

Single Lessons:
Single Beginner or Lunge Lessons $ 40.00
Single Group Lessons with HFI Horse or Own Horse 40.00
One Hour Private Lessons on HFI Horse or Own Horse 85.00
Half Hour Private Lessons on HFI Horse or Own Horse 45.00
Video Lesson – ˝ hour ride, ˝ hour review 110.00

Practice Rides:
Riders who are at least Pink Level may schedule practice rides on HFI horses. Rides must be scheduled in advance. Horse assignments are made by HFI staff, with rider preferences taken into account.
Individual rides $ 30.00
Package of 8 practice rides 200.00

We can do PERSONALIZED GIFT CERTIFICATES for birthdays, Christmas, anniversaries, graduations, and other special events.