The World Equestrian Games in Kentucky included para-equestrian dressage for the first time as a part of the regular schedule of the Games. It has been a part of the Olympics for several cycles, but always as part of the para-Olympics held after the regular Games. So this was a first, providing a showcase for the fabulous skills of these challenged riders and their world-class horses.
Some countries have riders who either do not own their own horses or cannot afford to transport them to international competitions. These riders rely on borrowed horses to compete, a real disadvantage against the riders on their own mounts. When the call went out for horses to be made available to borrow, I listed several of my retired show horses, which now serve as schoolmasters for my students. In the end, two of mine were selected for the Japanese Team, and one of my student's horses selected for the Argentine Team. Stories about our experiences will be posted in weeks to come, along with lots of pictures.
GLANZEND AND MINA CHINJIU
A star of the show was Glanzend. After each of her performances people from many countries sought me out to comment on how well she worked with her rider.
The 20 year old Hanoverian mare is a very special horse. She is a product of my breeding program.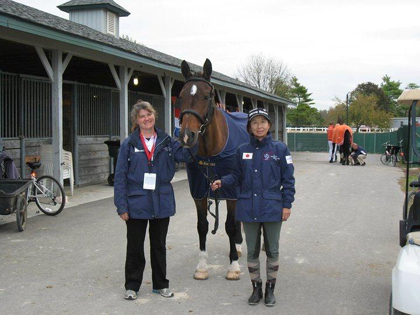 Jenny Schwandt, who raised, trained, and showed
Glanzend for many years, was her groom at WEG.
She and Mina's coach made a great team.
A student of mine, Jenny Schwandt, bought her as a foal, raised and trained and showed her with good success through third level, then traded her in on a younger model a few years ago.
Since then, the mare has enjoyed teaching countless riders and is my most versatile school horse. She seems to enjoy active retirement, but gives nothing away for free. She will often have a big smile on her face as she trots at great speed, refusing to canter for a
rider whose aids are not correct enough. She flings her head about for entire lessons for riders whose hands donít follow correctly or are too stiff. She is a great schoolmaster, but often a frustrating one for riders. And you risk life and limb if you try to enter her stall while she is eating! She only warms up to people when they have treats in hand.
Mina Chinjiu came to my stable from Japan last April to find a horse to borrow for WEG. Each para rider is placed in a Grade, from 1a to 4, depending on the degree of their physical challenges. Mina was a 1a, having the most severe disabilities. Several horses acted confused by the highly active, often abrupt aids she gives as a result of her cerebral palsy. Those horses shut down, staying safe, but not responding well. Mina was on Glanzend for only about 15 seconds, when the mare said, "I like you. What do you want me to do?"
Three days later, after going through the Grade 1a Team and Individual tests quite successfully, we tried out movements to use for the freestyle. Mina has little control over where her legs and arms go. When we tried a leg yield at the walk, she turned herself almost inside out to try to tell the horse what to do. It was a most bizarre looking set of aids, certainly nothing Glanzend had ever experienced. However, on the second try, the mare calmly stepped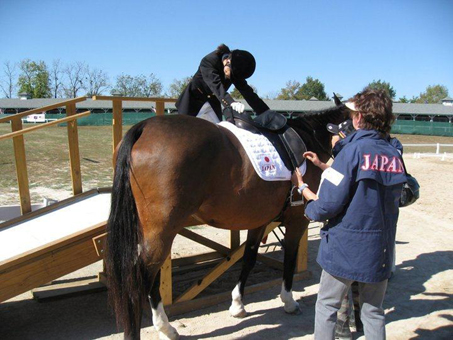 Mina mounts Glanzend from a ramp built specially for the
WEG Para Dressage warm-up ring at the Kentucky Horse Park.
sideways from centerline to the track. That truly brought tears to my eyes. The match was made.
We worked for 5 months to help our school horse to look like a horse we could be proud of in an international arena -- special products used weekly to grow her tail, extra grooming, lunging several times a week in a way to build the right dressage muscles over her topline, then hard work in the 3rd level exercises for the last months before the Games to build more muscle and fitness. Meanwhile, Glanzend continued work in the school, but only with the riders who would not un-do our building work with their learning process.
Mina has competed in several world class competition for para dressage riders, always on borrowed horses. She competed at the Athens Olympics, and qualified for Beijing (Hong Kong), but couldn't find a horse to borrow. The Japanese contingent felt Glanzend was the best horse ever made available to her. Mina's dream was to get a 64%, and the whole group erupted with joy when her score of 64% for the Team Test was announced.
Reading over her test sheets carefully, Mina realized that the main thing lacking for an even higher score was activity in the walk. Accuracy, bend, connection, and other dressage basics were all in place. A fierce competitor, Mina telegraphed her determination to Glanzend when it was time for the Individual Test. The mare responded by sharpening her reactions to the aids and adding energy from the start. Unfortunately, extra effort with Mina's legs to go forward after the first halt at X was accompanied by extra movement of her arms.....cerebral palsy creates a severe challenge in developing independence of the aids. Glanzend interpreted this as a signal to rein back. Her obedient steps brought low scores from the judges. More inadvertent aids created an unscheduled halt in the third movement of the test. I could see Mina keep her cool, re-group, decide that trying too hard was causing problems. She then proceeded with a less vigorous set of aids. The remainder of the test was lovely, active, correct and earned higher scores than her Team Test.
Mina and Glanzend on the centerline, totally focused.
Only the two mis-communications, bringing 4s from most of the judges, kept her score on the same 64%.
Horse and rider were ready for the freestyle. It's hard to create an interesting freestyle with only walk to use. Mina managed to include a high degree of difficulty with a movement we had never practiced on the horse: E turn left across the arena, make a figure 8 with two 8 meter circles on the quarter line, pass through X and make a second figure 8 on the next quarter line, then turn right at B. Having judged many freestyles over the years where I was very puzzled as to what the rider was trying to do, I was praying that this exercise wouldn't turn into an unrecognizable muddle. They performed it perfectly, with clear changes of bend, always on the bit. The free walk had good stretch, activity, and overtrack, which is quite a trick for Mina, because she cannot lengthen the reins. She has to lean as far forward as she can to give the horse a way to stretch, the legs swinging back onto the horse's flanks. The judges liked it a lot, and they earned almost 67%. Mina was over the moon with the score, and with her satisfaction in their performance together. Her coach was ready to try to squeeze Glanzend into her suitcase for the trip back to Japan!

What I had never realized is that most of the horses used by para-equestrians in competitions at this level have gaits that would be considered world class in any setting. If they only walk, like for Grade 1a, a winner will surely have a walk that would earn a 9 in any company. None of the medal winners in any grade had gaits that any judge could give less than an 8. Glanzend's walk is a strong and consistant 7, but not in the league of the winners. If a horse had any gait that was even slightly irregular, such as a slightly lateral walk, it was far down in the standings. The Grade 3 and 4 tests, which are the equivalent of our Third and Fourth Levels, were performed well enough to win USDF Horse of the Year Awards. The United States and Canada had very capable riders, but were badly outclassed by the quality of horses from other countries. I thought I would see many older, retired show horses like the two I brought. Not so! These horses were in their prime, typically from 7 to 14 years old, and in top competitive condition. The warm-up ring was often full of eye candy for the dressage lover!
It was an honor to be able to have three horses from my stable compete at the World Equestrian Games. My students and I worked very hard to prepare them and to keep them happy, healthy, and fit while at the games.....all services donated.
All the time and effort was worth it, for the joy and sense of accomplishment it brought to Mina and the other riders.